Cartapesta: Lecce's Artistic Legacy
Discovering the old tradition of Cartapesta in Lecce with Victoria | #PugliaByMe
A craft very unique to Lecce in the Salento region of Puglia is cartapesta, papier-mâché. No, not the papiermâché you did in elementary school… papier-mâché as an art form! In fact, especially here in Lecce you will find many spectacular statues and even a ceiling in one of the churches is actually papier-mâché e! And trust me, you would never suspect it unless it was pointed out to you!
Cartapesta – Origins or Necessity is the Mother of Creativity!
Although the origins of papier-mâché are in the Middle and Far East, through trade the technique found its way to Europe and eventually to the Salento region in southern Italy.
Both cartapesta and Baroque were embraced and flourished in this region, especially in Lecce, during the 17th and 18th centuries! This burgeoning resulted in artisans being requested to provide religious statues for local churches and monuments within a rather short timeframe. Not having access to the preferred (and more expensive) materials, e.g., marble and bronze, or the tools to work with them, they were forced to find a new medium and they did! Cartapesta was the perfect solution! Requiring little space and few tools, talented and creative artisans adapted by using whatever was at hand.
Working with old rags, straw, paper, etc. they found that they could easily fold, manipulate and sculpt the papier-mâché into exquisite statues of saints and religious figures that looked like marble and bronze, but were less expensive, much faster to produce and, being lightweight, easier to transport and carry in processions! Cartapesta became the artistic medium of choice and can be admired in the Chiesa di Santa Chiara with its ceiling and statues of papier-mâché and in the Museo della Cartapesta. Thanks to a resurgence it can also be enjoyed and appreciated today in shops throughout Lecce!
Cartapesta – A Demonstration!
In Lecce's main old town, you will find La Cartapesta and if you go a few steps further you will see a very small workshop. And this is where you will find Antonio and his wife, Rosaria crafting handmade cartapesta creations. We were fortunate to observe Antonio as he demonstrated his skill and expertise. Using a few basic stock forms and tools with a special paper and paste, he begins to practice his craft, a craft he has perfected over 30 years.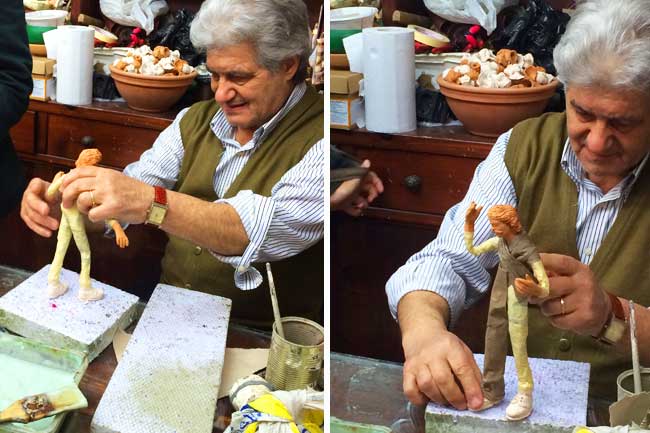 The wire and straw "stick man" only has a head, hands and feet but… as he tears off pieces of paper, wets them and molds them onto the form, it starts to take shape…a shirt, pants, a vest, a coat, a hat…right before our eyes, he creates and constructs a figurine of a fisherman! Needless to say we are delighted![rule] The statue will be allowed to dry completely for several days, then a hot iron tool will be used to "singe" and smooth the edges before it is sealed. Ready to be painted, the degree of detail and realism is impressive. Back in their shop, Antonio, Rosaria, and their daughter, Elisabetta, proudly display a wide array of figurines that are for sale. It's hard to choose one…but we all managed to pick and favorite to bring home! Visit Antonio and Rosaria at La Cartapesta di Pallara e Caricato!
Contributed by: Victoria De Maio
La dolce vita for me sums up Victoria's passion and love for all things Italian. An American living in California, her heart is always in Italy. As a travel consultant, blogger, writer, and tour leader, Victoria loves sharing practical no-nonsense travel tips and insights on her travel blog, PostcardsfromTravelPiZazz.com and now offers two boutique tours to Italy, including beautiful Puglia! Connect with Victoria on her blog, Facebook, Twitter, and Pinterest.