Puglia has gained a fantastic reputation among tourists and tour operators for the beauty and charm of its unspoiled beaches and the crystal clear water. From Gargano Promontory to Santa Maria di Leuca at the bottom of the region and moving towards the Gulf of Taranto, Puglia offers approximately 800 km of coastline of unique natural beauty. Its beaches are the ideal retreat for those looking for relaxation and wellness, as well as for all those that desire a bit more of adventure and swim and snorkel through rocky sea bottoms.
---
Ionian Coastline
The Ionian coast is characterized by low sandy beaches often surrounded by beautiful pine woods and Mediterranean vegetation, with dunes creating a natural barrier between the fine white sandy beach and the road, which runs parallel to the coast. Heading south it becomes more rocky, the water is generally shallow and clear, a light blue. The Adriatic coast is mostly rocky in the southern part of Salento and Gargano area, the water is deep with an intense blue color.
Another feature of the Puglian coastline is undoubtedly the presence of several watchtowers. Scattered along the whole coast, these towers were built over the centuries as a defense against pirate attacks that the region had suffered, and where also used to spot enemy ships. Many of them have been renovated and are open for visit; some of them have a very ancient history. Many seaports and crowded tourists resorts populate the coastline, but also many dream-like beaches ideal if you are looking for peace and relaxation.
Starting from the border with Basilicata, we find the two well-renowned tourist resorts of Ginosa Marina and Castelleneta Marina both home to countless bars, restaurants and hotels. Passing the city of Taranto, the coast is low and characterized by a long series of low beaches. Of particular interest are the villages of Lido Silvana, Campomarino where a nice harbor for mooring boats is located, San Pietro in Bevagna and Torre Colimena.
Further south, where the coast becomes a little bit rocky, we recommend stopping in several popular tourist destinations located along this stretch of coast: Porto Cesareo with its marvelous sea full of small islands such as Isola Grande (Big Island), also known as the Isola dei Conigli (of rabbits), Santa Maria al Bagno, also known as the resort of the split-mountain, Santa Caterina right in the middle of Porto Selvaggio which since 1980 has become a natural park and protected area, consisting of an extensive pine forest and eucalyptus trees, rich in plant species and animals.
Heading further south we find Gallipoli, the pretty city, famous tourist destination which attracts thousands of tourists. There are several surrounding beaches, but you should also visit the small beach in the old part of the town called Seno della Purità (Breast of Purity) with its emerald green waters.
Leaving Gallipoli, the coast gets rocky and dotted with small wild beaches while we reach Torre Mozza, a divers' paradise. A little further south there is one of the longest Puglian beaches (8 km), the absolute best beach of Pescoluse, a beauty breathtaking also known as the Maldives of Salento.
Adriatic Coastline
We arrive in Santa Maria di Leuca where the Ionian Sea meets the Adriatic Sea; here the coast is characterized by high rocky walls, cliffs, small coves and fascinating caves. Here is where the Adriatic coast begins with its breathtaking landscape: along the coastal road you will marvel at the beautiful high and rocky coastline falling perpendicular to the deep blue sea and wild vegetation, mainly of tall pines, with its wonderful colors and unique fragrances.
In Tricase, we find the Serra, a natural pool formed from sea waters. Castro, one of the best known beach resorts in Salento, whose rugged coastline full of small bays and coves, overlooks a splendid sea. This is one of the most recommended areas of Puglia for those who love diving. Few miles from Castro stands the phenomenal La Zinzulusa cave with the entry facing the sea and the spectacular cliffs carved by water over thousands of years. Santa Cesarea Terme and its numerous Liberty-style villa; a major and well-known spa complex since Roman times.
Porto Badisco which according to legend was the site of Aeneas's first landing in Italy after his escape from Troy, is where you can see the famous Grotta dei Cervi whose walls are full of Neolithic scenes. This is also an excellent spot for snorkeling. We finally arrive at the beautiful Otranto, the easternmost point in Italy.
Continuing north, we cross the nature reserve of Laghi Alimini (Alimini Lakes), the so-loved and beautiful Baia dei Turchi (Bay of the Turks), and we arrive in Sant'Andrea, a dream place and one of the most frequented by young people for its nightlife, Torre dell'Orso with its white sandy beaches and the "Due Sorelle" (two sisters), two big white rocks emerging from the sea.
San Foca which has a harbor with hundreds of boats and the natural oasis of Cesine that can be explored on foot with experienced guides.
Past Brindisi, we find Torre Guaceto, a nature reserve and protected area, a stretch of sand and sea that has remained uncontaminated and free from development. The following stretch of coast is populated by well know tourist resorts such as Marina di Ostuni, Torre Egnatia, fascinating remains of the Greek-Messapian town which dates back the 13th century BC, Capitolo, Monopoli and Polignano a Mare, the pearl of the Adriatic coast.
Bari is followed by the beautiful sandy beaches of Trani and Barletta. Margherita di Savoia takes us into the Gulf of Manfredonia.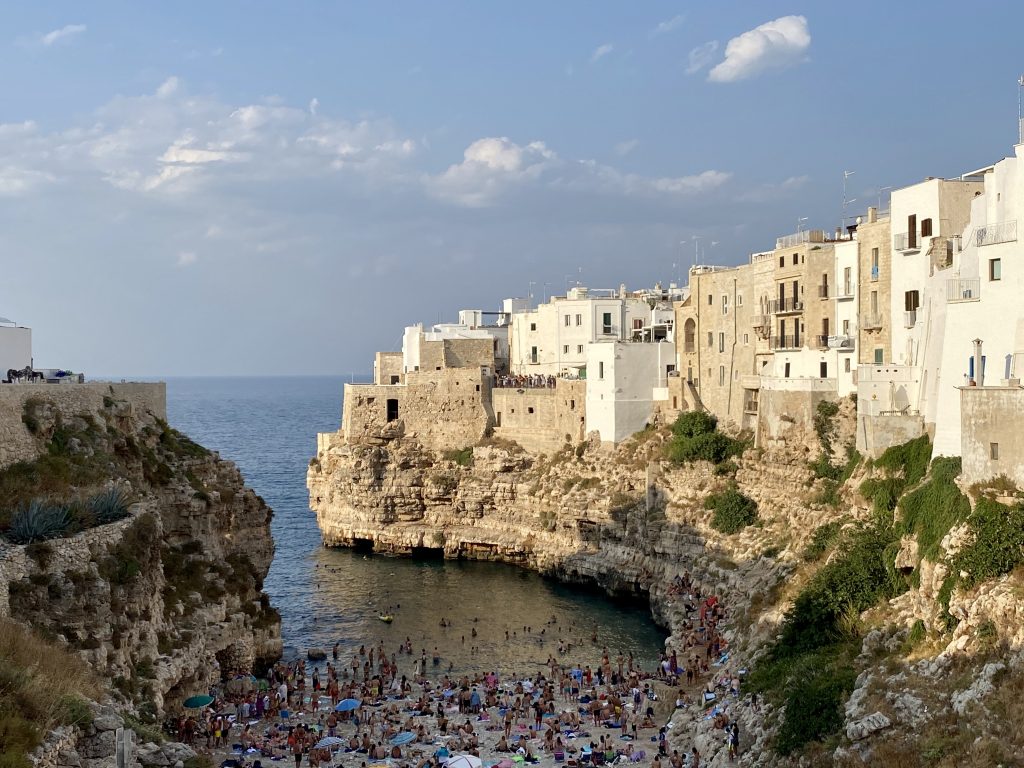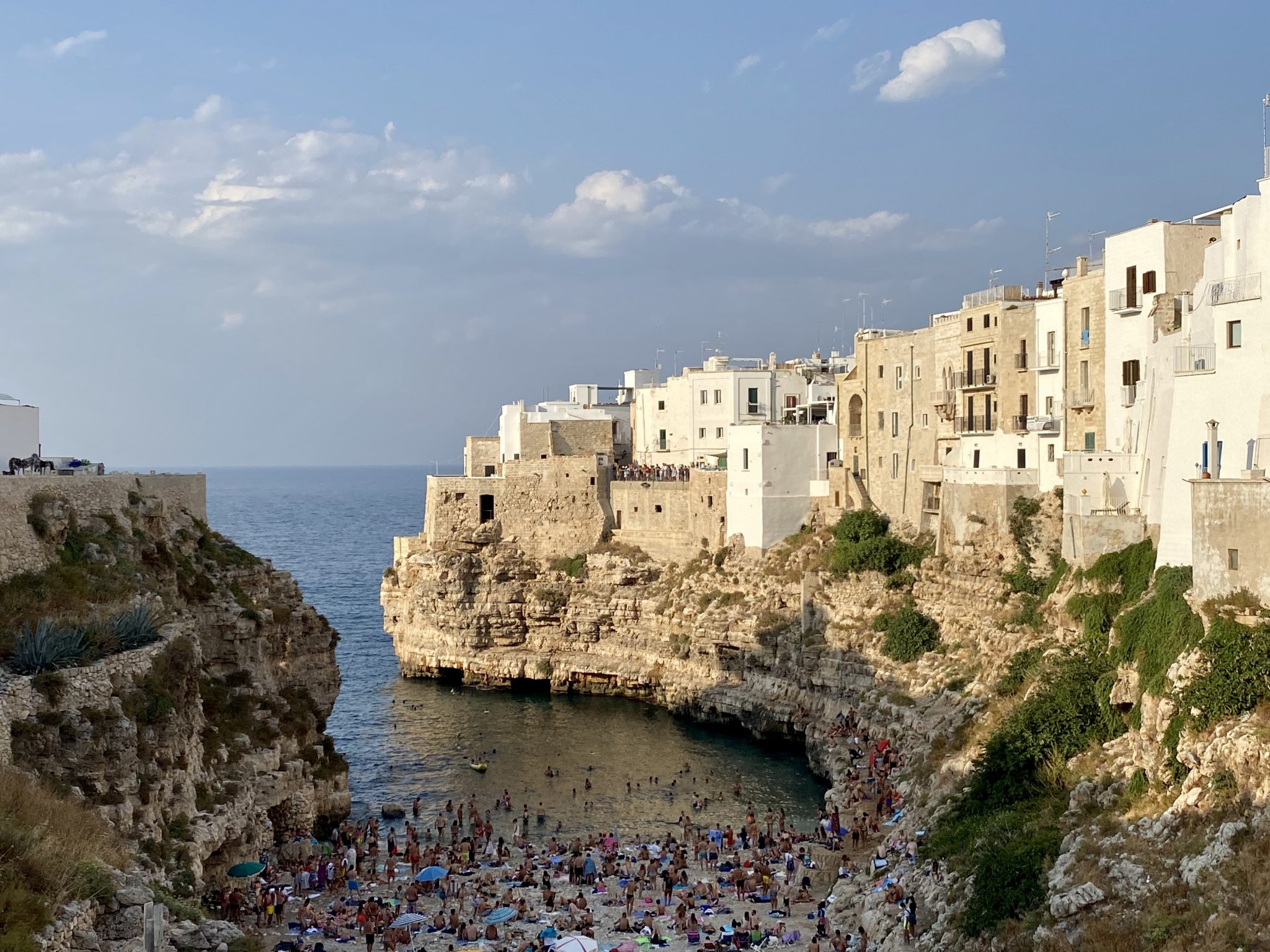 ---
---
Finally the Gargano Promontory, a true paradise for nature and sea lovers. An extensive coastline: mostly rocky, rugged and full of caves and coves, which often alternate with picturesque beaches like Pugnochiuso, Vignanotica, Baia dei Campi, Baia delle Zagare. Further north is located the splendid seaside resort of Vieste with its famous monolith Pizzomunno overlooking the beach and the lovely village of Peschici. The coast ends with the inland lakes of Lesina and Varano, near the town of Rodi Garganico.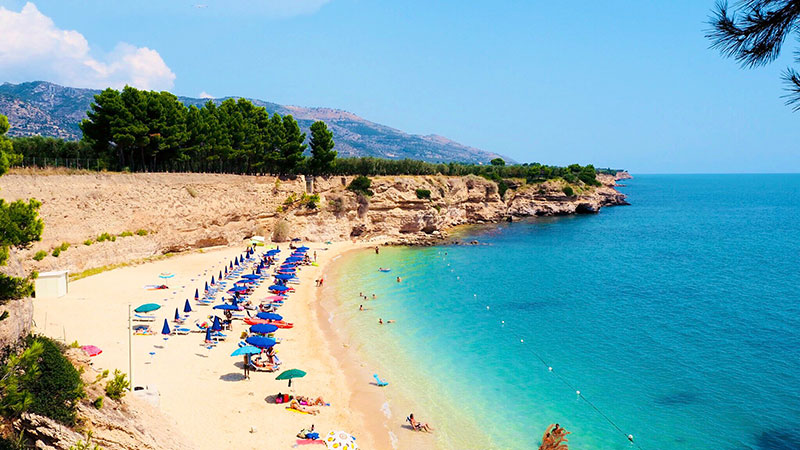 The Tremiti Islands, which are part of the Gargano National Park, are an archipelago of small islands with white sandy beaches and a pristine sea, they are a popular destination for diving thanks to the high number of coves and underwater caves.