Gravina in Puglia: a gem to discover
Gravina in Puglia is an ancient town located in the province of Bari, about 60 kilometers west of the regional capital, Bari. There is quite a lot to see and do in the town, so you better plan an overnight staying.
The town is known for its rich history, and it has been inhabited since prehistoric times. The ancient Greeks, Romans, Normans, and other civilizations have left their mark in the town, and there are many historic landmarks and architectural treasures to explore.
The town is known as the place where Pope Benedetto XIII was born. Also, like the more famous Matera, part of the ancient buildings and churches in Gravina were hewn out of the underlying rock.
And, for those of you who like the James Bond movie 'No Time To Die', you should know that the movie was filmed in Matera, however the bridge we see in the movie where he jumps off is located in Gravina in Puglia!
Best things to see in Gravina in Puglia
Gravina in Puglia offers a rich blend of history, architecture, and natural beauty that makes it a great destination for tourists. You must explore it on foot, so be ready to wear comfortable shoes and climb few steps. Here are some of the best things to see and do:
In the old town we find one of the most notable landmarks in Gravina in Puglia, the Romanesque Cathedral, which dates back to the 11th century. The cathedral features a beautiful bell tower and stunning frescoes, and it is considered one of the finest examples of Romanesque architecture in Puglia.
Also worth a visit the Chiesa rupestre di San Michele delle Grotte, one of the most interesting churches in the area which holds a pile of stacked skulls and long bones (as the legend goes, they belong to the Martyrs of the Saracen attack) and Chiesa rupestre di San Basilio.
The town's most famous attraction is its bridge over the local river. It was built in the 17th century, was then destroyed by an earthquake in 1722, and was later restored and repurposed as an aqueduct by the Orsini's, a powerful family from Rome. It is a great spot for taking photos and offers the best views of the surrounding landscape.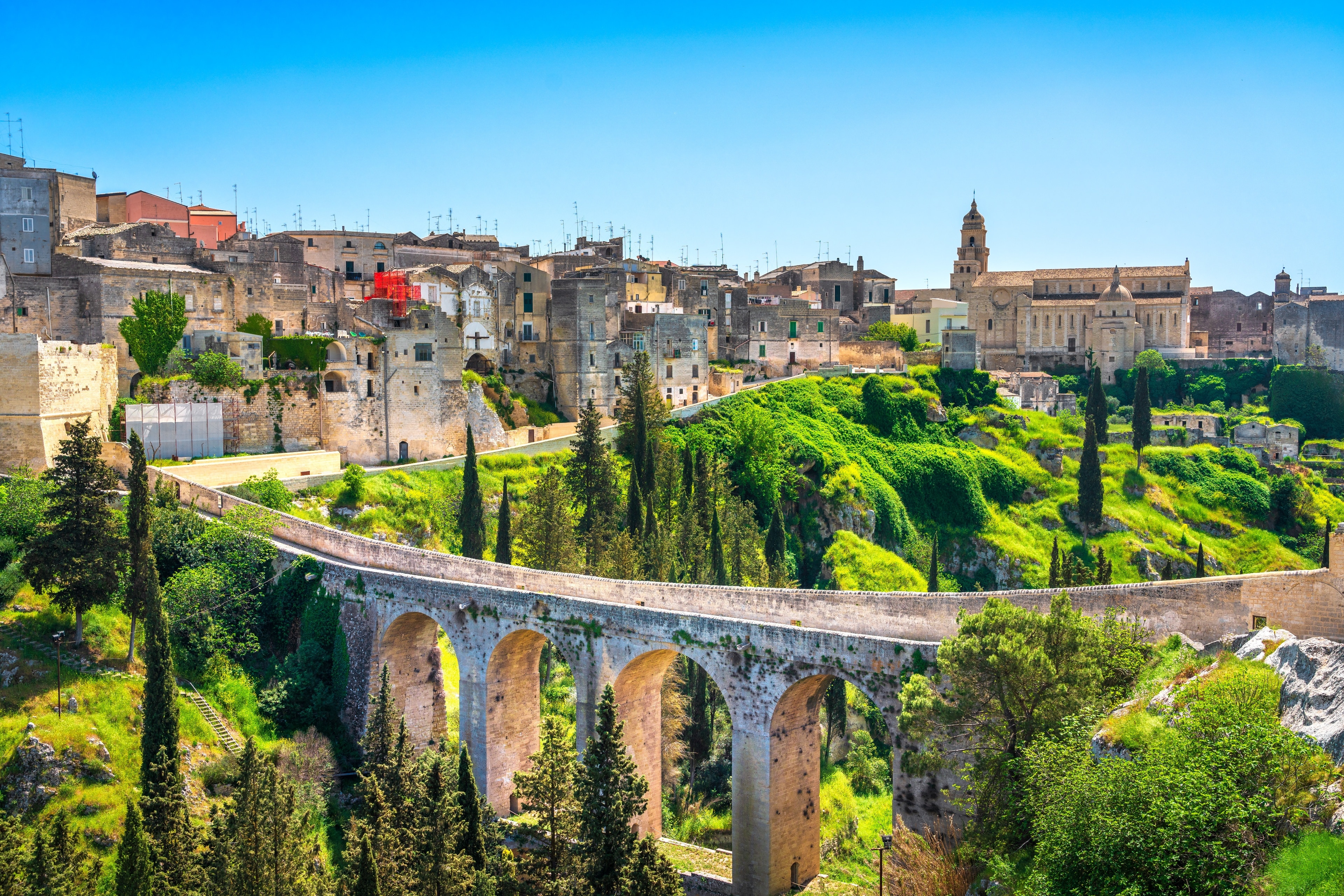 On the other side of the bridge you can visit the Botromagno Archeological Park . This scenic park is a great place to go for a walk or a picnic. It used to be the ancient quarter of the town and it offers stunning views. Here we find old monuments and churches carved out from the rock.
The Santuario Madonna della Stella: This beautiful church is located on a hill overlooking Gravina in Puglia. It offers stunning views of the town and the surrounding countryside. For more information on all churches please visit the following site
Another popular attraction in Gravina in Puglia is the underground city, which is a vast network of caves and tunnels that were carved out of the soft limestone bedrock beneath the town. The underground city was used as a shelter during times of war and as a storage space for food and wine, and it is a fascinating place to explore.
The underground caves can be visited by taking a guided tour. For more information and to book a guided tour, please check the Gravina Sotterranea website.
Eat and sleep in Gravina
Gravina is also famous for its food and wine: like Altamura famous for Pane di Altamura DOP, Gravina also produces its own bread made from the same wheat. If you like wine, ask for some local Gravina DOC, people here have been cultivating the grapes for over 1,200 years ago. Even emperor Frederick II of Swabia named this area the 'land of wheat and wine' when he set his hunting preserve
Another specialty is the Pallone di Gravina, a cheese made from cow's milk. It is firm in texture and shaped like a ball.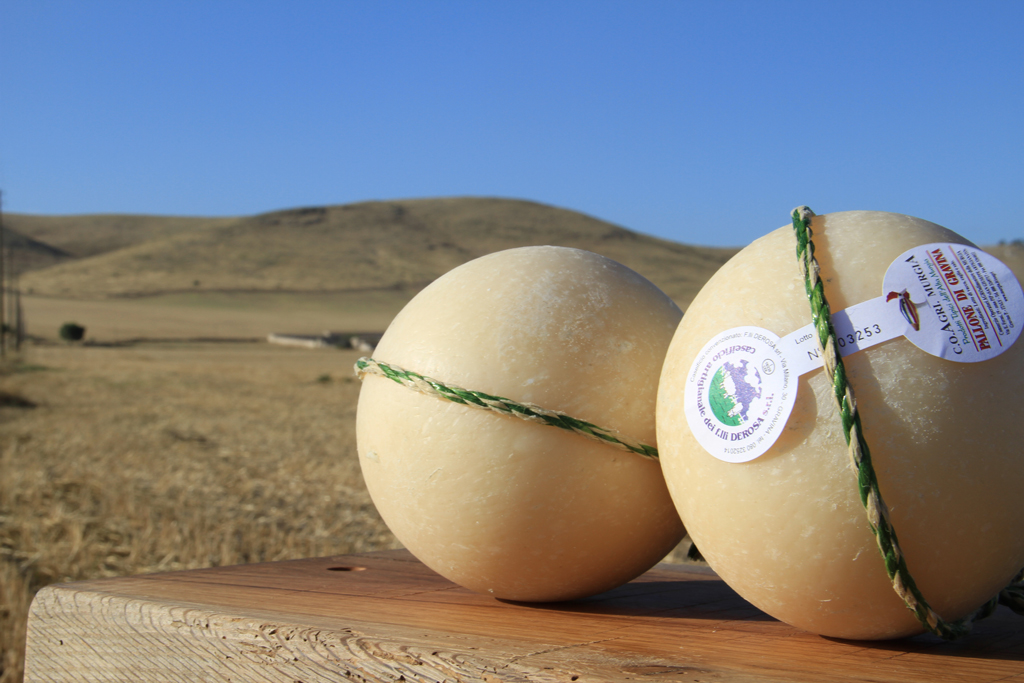 Gravina in Puglia offers a great variety of hotels and accommodations, all of them with high grades. Check Booking for full offer!
How to get to Gravina in Puglia
Gravina in Puglia can be reached by various means of transportation.
By Plane: the closest airport to Gravina in Puglia is Bari Karol Wojtyla Airport, which is located about 60 kilometers away. From there, you can rent a car or take a taxi.
By Train: Gravina in Puglia has a train station, which is served by the Ferrovie Appulo Lucane (FAL) railway line that connects Bari with Matera. You can take a train from Bari or Matera.
By Bus: Gravina in Puglia is also served by the Ferrovie Appulo Lucane (FAL) bus service to other towns and cities in Puglia. You can take a bus from Bari or other nearby towns
By Car: you can easily reach Gravina in Puglia by taking the A14 highway from Bologna to Bari, and then taking the SS96 highway towards Altamura and Gravina in Puglia.
Things to see near Gravina in Puglia
Here are some nearby places that you might want to visit:
Matera: a UNESCO World Heritage site and a fascinating city with ancient cave dwellings, churches, and museums. It is located about 25 km from Gravina in Puglia.
Altamura: a historic city that is known for its beautiful cathedral and delicious bread, only 10 km away.
Castel del Monte: a UNESCO World Heritage site and a stunning castle that was built by Emperor Frederick II in the 13th century. It is located about 50 km from Gravina in Puglia.
Bari: the capital of the Puglia region and a vibrant city with a beautiful old town, a stunning cathedral, and delicious food. It is located about 60 km away
Alberobello: the picturesque town that is known for its unique trulli houses, which are traditional stone dwellings with conical roofs. It is located about 80 km from Gravina in Puglia.