Mattinata is a quiet and picturesque village along the Southern coast of the Gargano Promontory and is part of the Gargano National Park. This whitewashed village, with little houses facing the sea, is built on top of two hills and surrounded by mountains Monte Sacro and Monte Saraceno which create a wonderful backdrop to the village with vast green olive groves to complete this beautiful landscape.
The area around Mattinata is a heaven for orchids hunters and lovers: being part of the Gargano National Park, it is home to more than 60 different species of wild orchids, the richest area in Europe. It's economy is mainly based on fishing and agriculture with top class production of figs and almonds.
---
---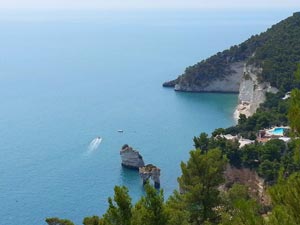 From the top of its hillside location Mattinata overlooks a protected bay and has one the Gargano's most beautiful beaches mainly made by pebbled and shingles and equipped with a small harbor the coastline around Mattinata is enchanting with white cliffs and coves (often accessible only from the sea), beaches like Vignanotica and Mattinatella, the Faraglioni Bay and Zagare Bay.
Mattinata has been inhabited since ancient times but its origins are uncertain: the Greeks called it Apeneste, literally "place facing the East" with reference to its location, and it was later named Matinum by the Romans. Recent archaeological excavations have been carried out on the Monte Saraceno and have brought to light remains of a necropolis (large cemetery) with over 500 tombs which date its birth from the seventh century BC.
Most of these remains are kept in the Archaeological Civic Museum. Also not to be missed an excursion to the Monte Sacro where you can visit the ruins of a Benedictine Abbey of Holy Trinity and a visit to the remains of an ancient Roman villa near the tourist harbor.