Polignano a Mare is a town in the province of Bari. Its origins date back to the Neolithic period (5th millennium BC), it was known as Neapolis during ancient Greek times and became an important trading center and seaport under the Romans.
Polignano a Mare is a pearl on the Adriatic Sea, the oldest part of the town lies on limestone cliffs and overlooks the sea. Of particular interest are his natural caves scattered around its territory where several remains of prehistoric human settlement have been found.
But most important and characteristic are the caves along its coast. Dug by the force of the sea which has shaped the rocks over the millennium, some of them are so deep that they extend right under the city center Among these, the Palazzese cave which gives the water a spectacular green-blue color.
Polignano a Mare has often received the Blue Flag (from the Foundation for Environmental Education) for its clean bathing water and beaches.
Wandering around the old town and getting lost among its narrow streets and white stone paved alleys is probably the best way to discover this little pearl. You will get lost into this labyrinth and most of the time the alleys will lead you to small terraces at the edge of the cliffs for a spectacular view point.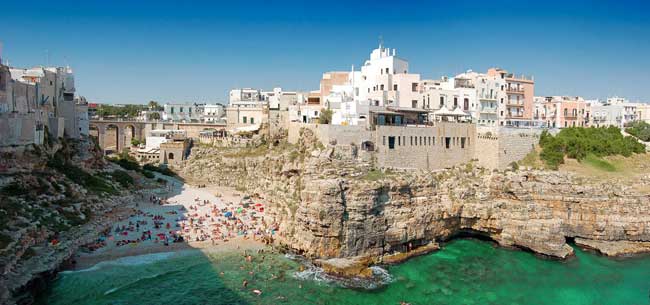 Photo Credits: Stefano Ciccocioppo
The architecture of the historic old town is very simple and typical of Mediterranean villages with numerous outside stairways, nice arches decorated with colorful flowers.
Several monuments and buildings of historic interest are well kept in the old town. The Marchesale Arch between the Lama Monachile bridge and the Garibaldi square was the original ancient gateway to the town. The bridge of the Traiana Road, still opened which crosses Lama Monachile, the deep inlet just north of the center. Mother Church, located in the main square, it was consecrated in 1295. The ancient Judea road (the Jewish Ghetto).
Domenico Modugno, an unforgettable master of popular Italian music, was born here, and as a tribute to this great artist, a statue has been opened in his honor along the seafront.