Porto Cesareo: a coastal paradise on Ionian coast
Nestled along the mesmerizing coastline of Ionian Sea, Porto Cesareo is a charming seaside town that beckons travelers with its azure waters, golden beaches, and authentic Mediterranean atmosphere.
Porto Cesareo is located approximately 30 kilometers south of the city of Lecce, the capital of the province of Lecce. If you are traveling by car, the most convenient route is to take the SS101 highway from Lecce towards Gallipoli and follow the signs to Porto Cesareo.
Things to Do and See in Porto Cesareo
The coastline is characterized by its stunning natural beauty and crystal-clear turquoise waters. It features a combination of sandy beaches, rocky coves, and shallow lagoons, making it a popular destination for beach lovers and nature enthusiasts.
One of the main highlights of the coastline is the Porto Cesareo Marine Protected Area, which encompasses several small islands and islets. These islands, such as Isola dei Conigli and Isola Grande which are known for their pristine beaches and rich marine life, making them ideal for snorkeling and diving.
The sandy beaches in the area, such as Spiaggia di Torre Lapillo and Punta Prosciutto, are famous for their fine golden sand and shallow, calm waters. These beaches are particularly attractive for families with children and those who enjoy sunbathing, swimming, and various water activities.
The coastal landscape also features stretches of rocky cliffs and small bays, providing scenic viewpoints and secluded spots for relaxation. The natural beauty of the area, including the turquoise hues of the sea, the vibrant Mediterranean vegetation, and the picturesque sunsets, creates a serene and picturesque environment.
Explore the Old Town: Begin your journey in Porto Cesareo by wandering through its charming Old Town. Lose yourself in its narrow streets lined with whitewashed houses adorned with vibrant bougainvillea flowers. Discover hidden squares, local shops, and traditional trattorias where you can savor delicious regional cuisine.
Best beaches near Porto Cesareo
Porto Cesareo boasts some of the most stunning beaches in Puglia, renowned for their crystal-clear waters and pristine sands. Here are a few must-visit beaches:
Spiaggia di Torre Lapillo: Located about 10 kilometers north of Porto Cesareo, this beach is renowned for its crystal-clear turquoise waters and fine white sand. It offers a long stretch of coastline, backed by sand dunes and Mediterranean vegetation.
Punta Prosciutto: Situated approximately 15 kilometers north of Porto Cesareo, Punta Prosciutto is another stunning beach known for its pristine beauty. It features a long sandy shoreline, shallow and transparent waters, and a peaceful atmosphere. It is particularly popular for its picturesque lagoon, which provides a unique setting.
Torre Chianca: Located just south of Porto Cesareo, Torre Chianca offers a lovely sandy beach with clear waters. It is known for its peaceful and uncrowded ambiance, making it a great spot for relaxation and sunbathing.
Isola dei Conigli: This small island, accessible by boat from Porto Cesareo, boasts gorgeous beaches surrounded by crystal-clear waters. It is part of the Porto Cesareo Marine Protected Area and offers excellent opportunities for snorkeling and exploring marine life.
Spiaggia di Porto Selvaggio: While not in direct proximity to Porto Cesareo, this beach is worth mentioning due to its natural beauty. Located in the nearby Porto Selvaggio Natural Park, it features a rugged coastline, small sandy coves, and pristine waters, making it a hidden gem for nature lovers.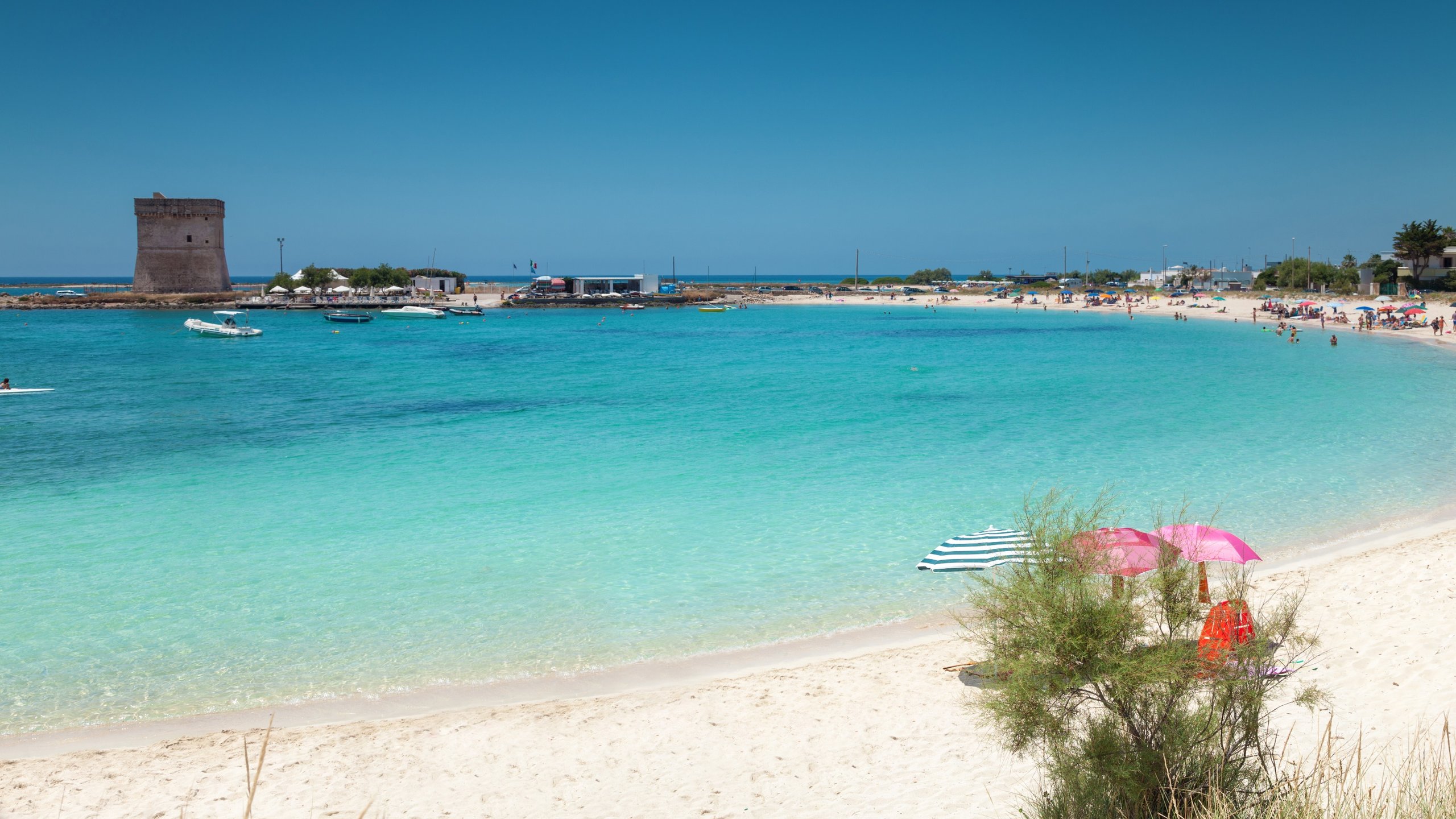 Tours and Activities
There are several activities and tours that you can enjoy. Here are some popular options:
Boat Tours: Take a boat tour to explore the coastline and nearby islands, such as Isola dei Conigli and Isola Grande. These tours often include stops for swimming, snorkeling, and enjoying the scenic beauty of the marine protected area.
Scuba Diving and Snorkeling: Discover the underwater world of Porto Cesareo through scuba diving or snorkeling excursions. The clear waters and rich marine life make it an ideal destination for exploring vibrant coral reefs, underwater caves, and diverse marine species.
Kayak Tour, Nature Reserve Visits: Explore the crystalline waters of the Porto Cesareo Marine Reserve without impacting the local flora or fauna with this kayak adventure accompanied by a marine biologist guide. Learn about this unique ecosystem and dive in with a snorkeling mask to spot colorful fish, sea turtles, and other marine life.
Wine and Food Tours: Embark on a culinary journey by joining wine and food tours that showcase the local gastronomy. Apulia is known for its delicious cuisine, including fresh seafood, traditional pasta dishes, and regional wines.
Beach Relaxation: Simply unwind and enjoy the beautiful beaches. Bask in the sun, swim in the clear waters, or take leisurely walks along the sandy shores.