Presicce, an hidden gem of Puglia
Nestled in the southern part of Puglia, Presicce is a small village in the province of Lecce. In 2019 Presicce merged with Acquarica to form a single municipality called Presicce-Acquarica. The decision to merge the two towns was made in 2018 as part of a larger regional reform effort aimed at reducing bureaucracy and improving the efficiency of local government in Italy.
Presicce became famous in 2022 when a new program was launched to renovate the historical city center. The local government will offer an incentive of €30,000 to those people willing to invest and to move to the village. Few requirements must be met, such as establishing residence in Presicce and buying one of the properties built before 1991, which have been mapped by the authorities. In addition, the money will also be used to make repairs to the property if necessary. With this initiative, the authorities hope to give a new life to the city, since it is undergoing a process of gradual depopulation. All relevant information can be found on the council website (https://www.comune.presicceacquarica.le.it/it).
What to see in Presicce
Presicce is known for its well-preserved historic buildings, which date back to the Middle Ages. One of the most notable is the Palazzo Ducale, a beautiful palace that was built in the 16th century and now serves as a cultural center for the village. The Chiesa Matrice di San Giovanni Battista, with its striking Baroque façade and ornate interior, is another must-see for visitors.
The Chiesa Madre di Sant'Andrea Apostolo is another important religious site, dedicated to Saint Andrew, the patron saint of Presicce. It is located in the historic center of the town and is one of the most impressive Baroque churches in the area. The church was built in the 17th century and is known for its stunning facade, which is adorned with intricate decorations and sculptures. The interior of the church is equally impressive, with ornate decorations, beautiful frescoes, and a stunning high altar.
The Church of Santa Maria degli Angeli, another beautiful Baroque church that was built in the 17th century. The church is known for its stunning frescoes and intricate architecture, and it is one of the most important religious sites in Presicce.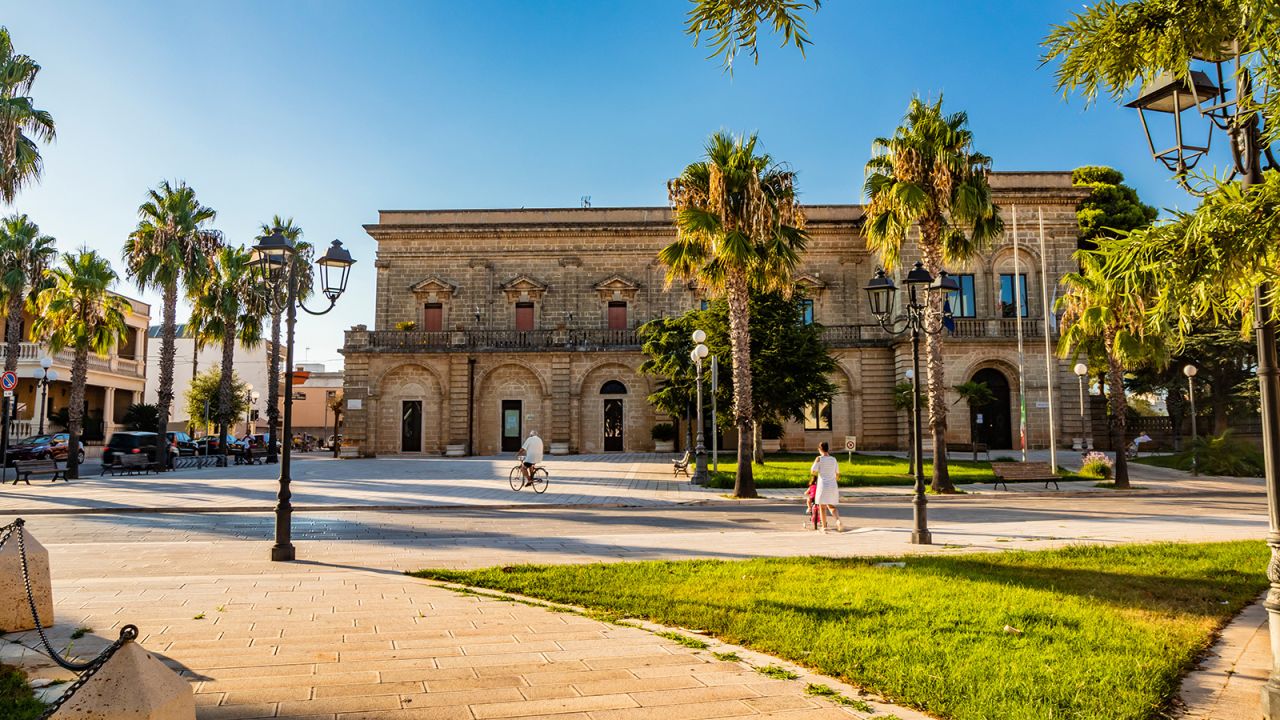 Olive oil and ancient oil mills
Presicce is famous for its high-quality extra virgin olive oil. The town is located in the heart of the Salento region, which is known for producing some of the best olive oil in Italy. The area's hot and dry climate, coupled with the fertile soil and the expertise of local farmers, creates the perfect conditions for growing olives that produce flavorful and aromatic oil.
In Presicce, olive oil production has been a vital part of the local economy for centuries. The town is home to many old oil mills that have been in operation for generations, and many of these mills are still active today.
Presicce's olive oil is renowned for its fruity flavor, low acidity, and rich aroma. It's often used in traditional Salento dishes, such as frisella (a type of hard bread), pasta dishes, and grilled vegetables. Visitors to the town can sample the olive oil at local markets and specialty shops, and many local restaurants offer dishes that feature this delicious ingredient.
But what sets Presicce apart from other villages in the region is its underground olive oil mills. These mills, which were used to press olives into oil, are located beneath the village's streets and many of them date back to the medieval period. Today, visitors can explore some of these mills and gain a deeper understanding of the area's rich agricultural heritage. Check Tripadvisor for some tour idea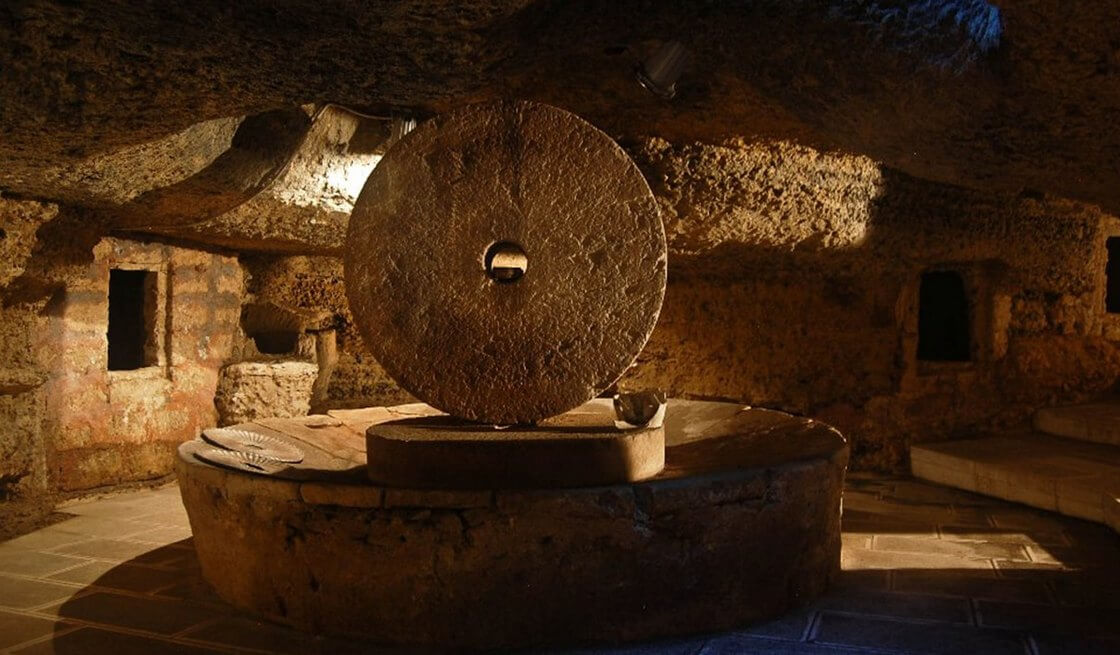 Beaches near Presicce
Presicce is pretty clos to the Ionian coastline, so if you are planning a visit there here are some of the best beaches you could visit:
Torre Vado Beach: Located just a few kilometers from Presicce, Torre Vado Beach is one of the most beautiful beaches in Salento. The beach is characterized by crystal clear waters and white sandy beaches. It's an ideal spot for swimming, sunbathing, and snorkeling.
Pescoluse Beach: also known as the "Maldives of Salento,, Pescoluse Beach is a must-visit destination for beach lovers. The beach features a long stretch of white sand and turquoise waters that are perfect for swimming and sunbathing.
Porto Selvaggio Beach: Located in the Porto Selvaggio Natural Park, this beach is known for its crystal clear waters and beautiful cliffs. The beach is surrounded by lush vegetation and offers a great escape from the hustle and bustle of the city.
Torre Pali Beach: known for a broken tower into the water (called Torre Pali). The tower is a historical landmark that dates back to the 16th century originally built as a watchtower. Due to the natural erosion of the coastline, the tower gradually collapsed and now lies partially submerged in the water.
Torre Mozza Beach: a beautiful beach that is perfect for families. The beach features shallow waters and is surrounded by pine trees, making it an ideal spot for picnics and relaxation.
What to see near Presicce
Presicce is located in the Salento area of Puglia which has so much to offer. Here are some of the best places to visit nearby:
Gallipoli: This seaside town is located about 20 km from Presicce and is known for its historic center, beautiful beaches, and vibrant nightlife.
Otranto: This town is located about 50 km from Presicce and is famous for its stunning cathedral, castle, and beautiful beaches.
Lecce: This historic city is located about 47 km from Presicce and is known for its Baroque architecture, delicious food, and vibrant street life.
Santa Maria di Leuca: This seaside town is located about 15 km from Presicce and is famous for its stunning lighthouse, beautiful beaches, and clear waters.
Porto Cesareo: This coastal town is located about 30 km from Presicce and is famous for its crystal-clear waters, sandy beaches, and natural reserve.
FAQs
How to get to Presicce
Here are some possible ways to get to Presicce:
By car: You can drive to Presicce from the nearest major city of Lecce, which is about 47 km away. From Lecce, take the SS16 highway towards Gallipoli and then follow the signs to Presicce. The journey takes about 40-45 minutes.
By train: The nearest railway station to Presicce is in the town of Taurisano, which is about 6 km away. From Taurisano, you can take a local bus or taxi to reach Presicce.
By bus: There are several bus companies that operate services to Presicce from various cities in the region. You can check the schedules and book tickets online or at the bus station.
By plane: The nearest airport to Presicce is Brindisi Airport, which is about 100 km away. From the airport, you can take a taxi or a train to reach Lecce, and then follow the instructions mentioned in option 1.
How far is Presicce from the beach
Presicce is located about 7 km (4.3 miles) from the nearest beach, which is called Lido Marini. Other nearby beaches include Torre Mozza (about 8 km away) and Torre Pali (about 11 km away).
What is Presicce known for?
Presicce is known for being of the most beautiful villages in Puglia (from the "Borghi piú belli d´Italia"). It also became famous in 2022 when they started to offer $30.000 to whoever decides to buy a property in the historic district in an attempt to repopulate the village