Puglia Itinerary Road Trip: Where to Go and How to Do It
Have you finally booked your flights and are now looking for a Puglia itinerary? You landed in the right place. As in any road trip, especially if in the company of someone you love, you will want to be sure that you do not waste your precious time.
When travelling across the region there are only a few things you cannot afford to skip: catching the sunrises and sunsets over the Adriatic Sea enjoying its mild Mediterranean climate while on one of our famous trulli; driving along Puglia's winding roads that weave through quaint villages and jaw-cracking coastline.
Tip: Puglia can count with a good network of public transportation; however, renting a car would be the best solution to travel comfortably and visit the most remote villages and beaches.
I hope this itinerary will inspire you to plan your next trip to Puglia!
PUGLIA ITINERARY: BEST OF PUGLIA ON THE ROAD
Day 1: Start in Bari and sleep in Matera
Bari is a great starting point for visitors looking to explore Puglia and it is not hard to see why: it has a number of historical sites to explore, including the Castello Svevo and the old town as well as a wonderful seafront where you can eat seafood straight from the sea
Take a taxi and head to the old (historical) town of Bari (cittá vecchia) for some sight-seeing. Check out the cathedral of St Nicholas and there is so much to see and do in old town. Stay for lunch, or grab a quick bite in one of the many charming restaurants. They have great food!
Enjoy some street food like the famous focaccia and panzerotti and if you have some spare time head towards the Spazio Murat that hosts regular exhibitions (mostly featuring Puglian artists) and a concept store called the Puglia Design Store
After you have had your fun in Bari, head towards Matera, home to one of the most famous attractions in Puglia: Sassi di Matera. People of Basilicata region carved these archaeological caves into the rocks for hundreds of years before they became one of Italy's major tourist attractions and settings for some famous movies such as The Passion of the Christ and 007 – No time to die
Day 2: Stop in Taranto and sleep in Gallipoli
Next stop is Taranto, the biggest city in Puglia after Bari and home to a very interesting museum called MArTA, which houses the legacies of men and women who lived in Southern Italy from the Paleolithic Period to the middle ages. Taranto is an important industrial and commercial center, so it is worth to visit if you are interested in the history of Greece and Rome. In addition, if you are there during the holy week, you´ll witness one of the most famous and suggestive "penitents" procession in Italy.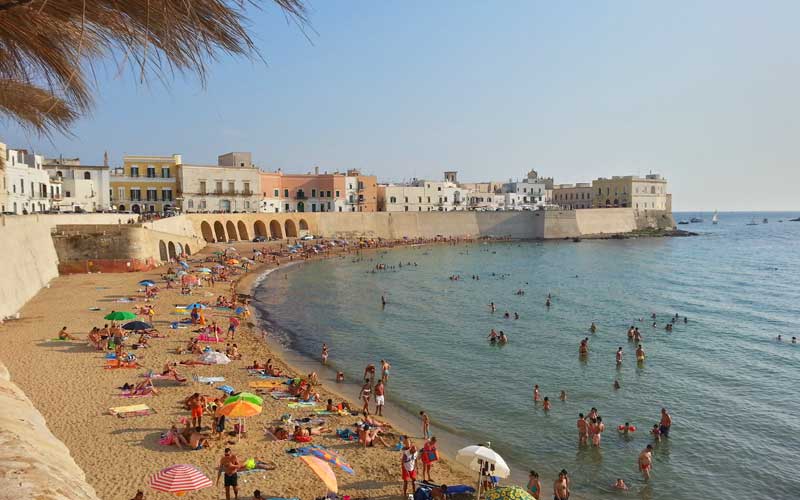 Head south to Gallipoli, the "beautiful city", the coastline city famous for its port and nightlife. The old town center forms a small island connected to the mainland by a 17th century bridge. A robust fortress dating back to the 13th century dominates the entrance to the old town. On the road to Gallipoli let me highlight some amazing beach in Campoarino di Maruggio and Punta Prosciutto for a swim and the Salina dei Monaci, a natural reserve with flamingos.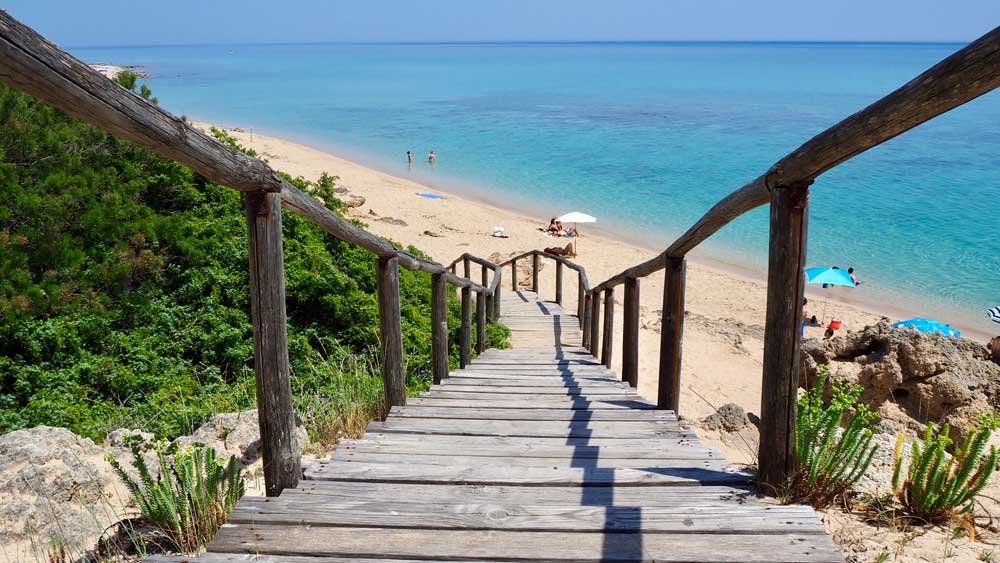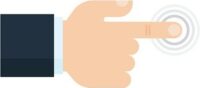 Day 3: Visit Santa Maria di Leuca and rest in Otranto
After Gallipoli, you should head to Santa Maria di Leuca. The village was named Leukos, literally illuminated by the sun, due to its beauty and brightness. Leuca is a charming and fascinating place thanks to its history and traditions but above all, it is admired for its sea and shores, which attract thousands of tourists, sailors and divers keen to explore the underwater caves. We recommend stopping in Pescoluse for a swim in the so-called Maldives of Salento
After a short stay in Leuca, we are now heading north along the Strada Provinciale delle Terme Salentine (SP 358) towards Otranto. This road offers breathtaking views over the Adriatic Sea. We can stop at the Zinzulusa cave, a must see attraction in the area, it was created by sea erosion and is full of stalactites and stalagmites that are reflected in the turquoise waters. Here you can also take a boat tour visiting many other caves in the area.
Just before arriving in Otranto, 5 minutes' walk from the main road, you reach an enchanted place, the Cave of Bauxite. If you are equipped with sturdy shoes and a love for nature, then this short detour will be worth your while. Tip: don´t wear high heels, as the terrain is very irregular.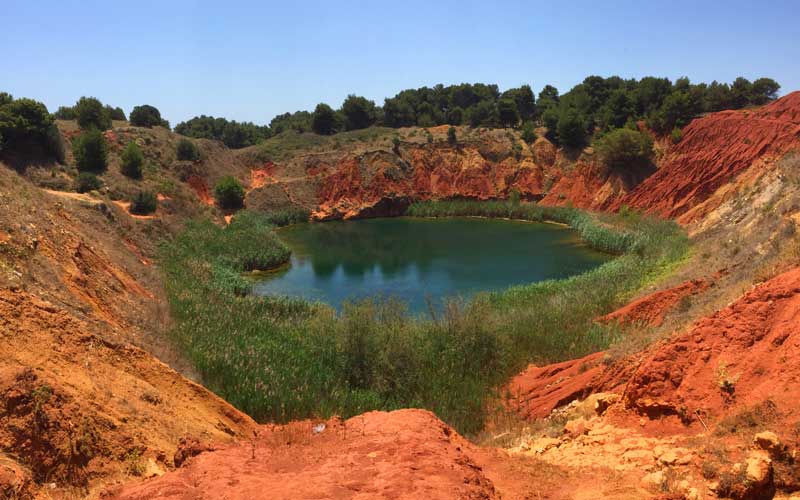 Day 4: Enjoy Lecce
Leaving the coastline and heading inland, we encounter a "must-see" on this Puglia itinerary, Lecce the Baroque masterpiece of Italy that will stupefy with its little-known magnificence, its noble palaces and undeniable beauty of its numerous churches. You should spend a night in Lecce and marvel at the many historical sights. Enjoy also some of its culinary masterpieces such as the pasticciotto and rustico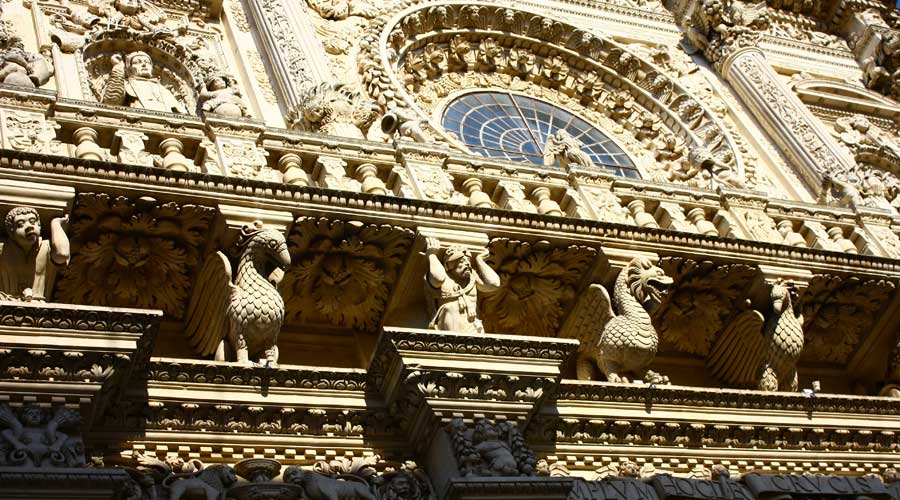 Day 5: Ostuni and Itria Valley
The next destination, on our road trip itinerary is Ostuni, the "white city" which got its color and name from the whitewashed houses. Ostuni is a picturesque whitewashed town that has preserved its medieval heart. To see the town up close, take advantage of the walled-in walkways and explore the narrow alleys to find restaurants and boutiques for sophisticated gifts from local artisans. By day, enjoy excellent dining and shopping. By night, sit and relax sipping a glass of local wine while listening music surrounded by candlelight lights.
Day 6: Discover Itria Valley and its gorgeous villages
Our next destination is Alberobello, a "must see" and a UNESCO World Heritage Site. It is located in the middle of the Itria Valley and is the capital of the trulli´s zone. The center, known as Rione Monti, is small and can be visited in a few hours. It hosts more than 1000 trulli and is home to souvenir shops, cafes and restaurants. If you plan to spend the night here, make sure you book a hotel with trullo cone for truly original night experience. From Alberobello you can easily reach other gorgeous destinations like Locorotondo, Cisternino and the Castellana Caves.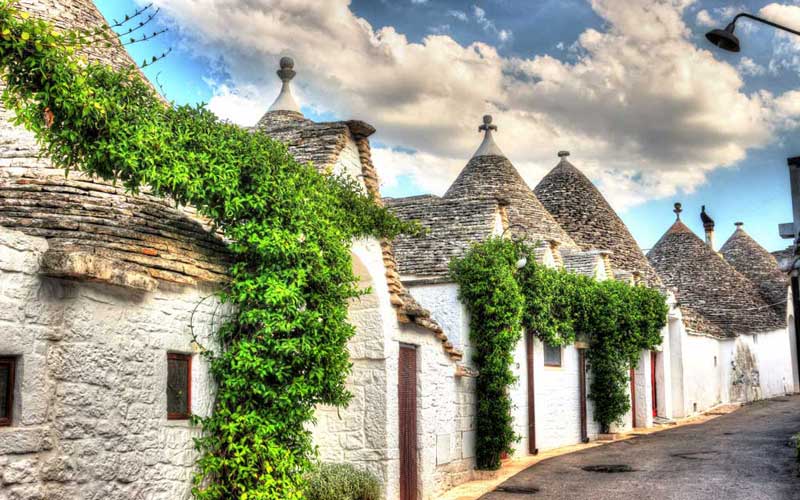 Day 7: finish your Puglia itinerary in the two pearls of the Adriatic Sea
We finish our Puglia itinerary visiting Polignano a Mare, a pearl on the Adriatic Sea. Wander around the historic center packed with cafes and restaurants. Enjoy the view from terrazza Santo Stefano for a breath taking photo and walk over the Ponte Lama Monachile to admire the beach below. Don´t forget to stop in Monopoli another pearl on the Adriatic coast, you should visit the Castello di Carlo V and the old port. Try some of the local specialties while marveling at the crystal seawater. Don´t miss trying the panzerotti at Madiá (Morsi di felicitá)