Beaches in Gargano: Top 10 most beautiful
The Gargano has some of the most beautiful beaches of Puglia. With its 140 km of coastline, the promontory is characterized by the presence of sandy beaches, ancient forest (mainly pine woods), bays, limestone cliffs, dunes, calcareous caves, and the faraglioni, white rocks emerging from the sea.
Famous and numerous are also the trabucchi, ancient wood-made structures built by fishermen from where they cast their nets. With its sparkling sea and cobalt blue water Gargano is the ideal destination for divers and water sports lovers.
It's highly recommended visiting the promontory by boat, to admire the entire coastline from Isola Varano to Mattinata, stopping in most remarkable places of the area.
Considering that there are so many beautiful beaches in the Gargano, here we have tried to select the ones there are really worth a visit, covering all the different areas of the promontory.
---
1) Mattinatella Beach – Mattinata
Distance from: Mattinata Km 11,25 – Vieste Km 31,2
The Mattinatella beach, or Fontana delle Rose, consists of just two beaches separated by a rocky spur. The beach on the North can be reached only by sea, so it is practically untouched. Mattinatella is a real paradise for those who want to relax or are fond of scuba diving. The crystal-clear waters are ideal for certified diving courses, as well as snorkeling and sport fishing. 
The landscape creates a stunning contrast of colors with the blue sea, the white cliffs and the green of the Mediterranean vegetation.
---
2) Zagare Bay or Mergoli Bay – Mattinata
Distance from: Mattinata Km 14,62 – Vieste Km 26,2
The Zagare Bay, also called Mergoli Bay, is about 1 Km long and has soft white sand, nestled within an enchanted cove. This beach can be reached by sea or by land through two hotels, the Baia delle Zagare Hotel and the Baia dei Faraglioni Hotel.
Considering the beach can only accommodate a maximum of 30 visitants per day to protect the site, if you wish to visit Zagare Bay, without being a guest of the hotel, it is recommended planning your visit ahead and getting a personal pass from the Mattinata City Council. More info here.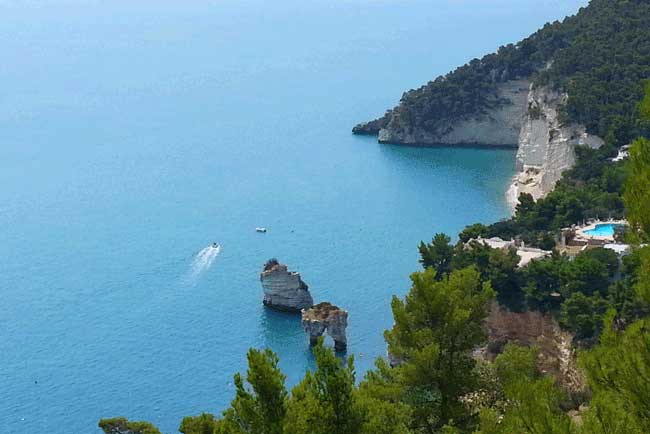 ---
---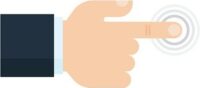 3) Ponente and Levante Beach – Rodi Garganico
The Ponente and Levante beach are located in Rodi Garganico and are set in the opposite ways of the town.
Distance from: Ischitella Km 8,5 – San Menaio (Vico G.) Km 6,1
The Ponente beach goes towards West beach, stretching down to Lido del Sole, and is interrupted only by the mouth of the Romandato creek. The beach is a succession of sandy dunes and, since it faces northern winds, is ideal for surfers.
Of easy access, the beach is well-equipped with accommodation facilities and bathing establishments, therefore it's also ideal for children.
Distance from: Ischitella Km 14,5 – San Menaio (Vico G.) Km 1,4
The Levante beach has golden fine sand. It is equipped with several accommodation facilities as well as with the new well-equipped marina. Easy to reach, this beach is ideal for families with children.
The surrounding landscape is very particular, as it is fully covered with orange and lemon trees, whose scent creates a magic atmosphere.
---
4) Cento Scalini o Tufare Beach – Vico del Gargano
Distance from: Rodi Garganico Km 6,2 – Peschici Km 7,1
To reach this beach, you have to go down a staircase of one hundred steps, after taking a path that starts from the State Road 89. The beach can be also reached by walking all along the the S. Menaio beach, towards South direction.
This beach is pretty quiet, not really windy and has some facilities, therefore it's perfect for families and for those who search some relax.
From a nearby path you can also access the marvellous Marzini pine-wood that, at sunset, offers a spectacular view of the Tremiti Islands.
---
---
5) Murgia della Madonna o Sospetto Beach – Vico del Gargano
Distance from: Rodi Garganico Km 6,4 – Peschici Km 6,9
This beach is situated at the base of the promontory where the Marzini pinewood is set and is the first pebbly beach for visitors coming from North.
Its name takes after the "Sospetto" cave that overlooks this beautiful beach, ideal for those who enjoy silence and relax. It is not equipped and can be reached only by foot, walking a path of few hundred metres.
---
6) Varcaro Bay – Mattinata
Distance from: Mattinata Km 8,8 – Monte Sant´Angelo Km 13,8
Probably the most beautiful beaches of Mattinata, the Varcaro Bay is very busy bust still pretty quiet. Access to the beach is subject to charges where it is also possible to rent chairs and umbrellas. The beach is fully equipped with bathrooms, showers, a bar and a picnic area with stone benches and tables. However there is space if you wish to bring your own umbrella and avoid full charges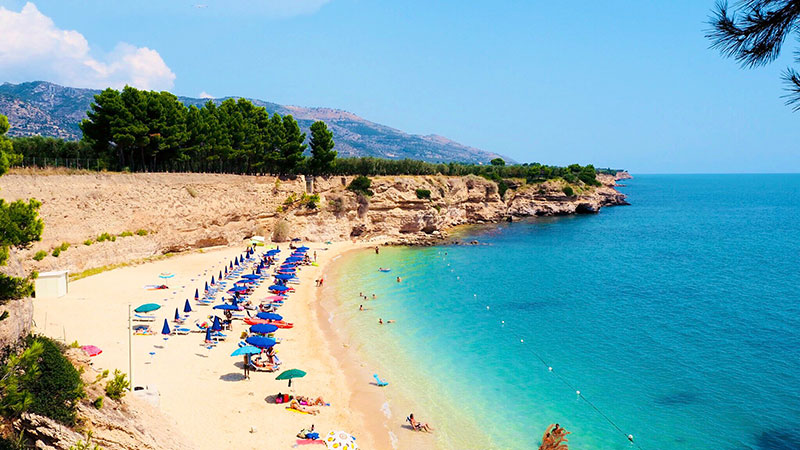 ---
---
7) Manaccora Beach – Peschici
Distance from: Peschici Km 7,2 – Vieste Km 20,0
Manaccora is one of the most beautiful Peschici's bays and it is also an important archaeological site, which testifies important period of the Gargano's history.
Placed between two haunting rocky peaks, Manaccora is a fine sand beach. It can be reached from an asphalted road that leads also down to the well-known Grottone di Manaccore (Big Cave of Manaccore), an important hypogeum dating back to the XVII century BC.
Part of the beach is public but the rest is licensed to accommodation facilities. In this beach you can also have the opportunity to admire the traditional Trabucco, placed on the cliff.
---
8) Zaiana Beach – Peschici
Distance from: Peschici Km 4,2 – Vieste Km 23,1
The beach of Zaiana, also called "the beach of young people", in the 70's e 80's was really popular amongst nudists. Suggestive rocky peaks encircle this beach, which today represents a gathering place for those who look for relax, diving and enjoying pure nature.
It has fine sand and is very easy to access. The beach is sheltered from southern winds and gets in the shade in the afternoon.
---
9) Vignanotica – Vieste
Distance from: Vieste Km 23,29 – Mattinata Km 22,85
Vignanotica is a pebble beach, well known for its white and high cliff, plunged into lush nature, between the Santa Tecla Park and the Monte Barone Park.
The beach can be reached from the municipal road "Vieste/Mattinata", taking a walkable path of about 3 Km. Due to the surrounding cliff, the beach gets in the shade early afternoon.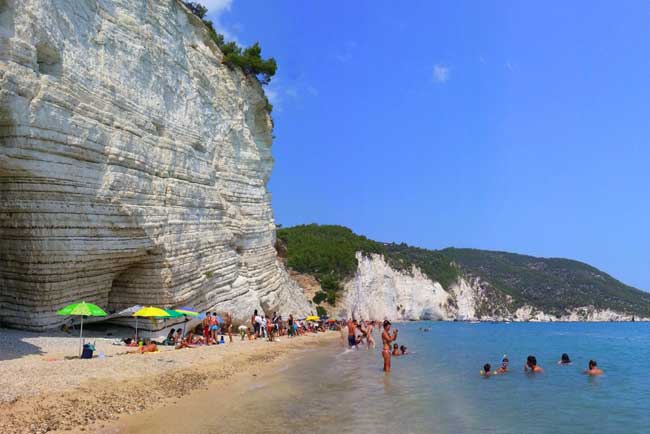 ---
10) Porto Greco Beach – Vieste
Distance from: Vieste Km 14,0 – Mattinata Km 35,0
The beach of Porto Greco is a pebble beach that quickly acquires depth. Plunged in the lush Mediterranean vegetation and surrounded by the majestic Tower of Garlic, it can be reached through an unpaved road of about 400m walking.
From the beach you can enjoy an amazing view of the Arch (Architiello) of Porto Greco and also visit the beautiful "Marble Cave" and the "Viola Cave" nearby. In the past the bay was used by sailors who sheltered here from rough wind. Indeed the beach is reached only by the Levant and Grecale winds.
---
11) Cala della Sanguinara Beach – Vieste
Distance from: Vieste Km 12,25 – Mattinata Km 31,8
The beach of Cala della Sanguinara is a real gem of the Gargano. Rich in lime stones, it is set into a white Karst cliff and surrounded by pinewood. It is perfect for those who enjoy snorkeling or just simply relax.
To access the beach you need to take a path plunged into a lush wood of Aleppo pinetree, the largest one in Italy. Or alternatively, you can reach it by sea.
In this case, we recommend to visit also the near sea caves, in particular the marvellous "Tomatoes Cave".