Adventuring in the Zinzulusa Cave
Just a couple of miles north of Castro, there is the phenomenal Zinzulusa Grotto, the most famous Karst cave along the Puglian coastline and considered to be one of the most important examples of this geologic phenomenon in Italy. The name comes from the word zinzuli, meaning rags. In fact the extensive collection of stalactites and stalagmites that fill this cave look like rags hanging from the ceiling.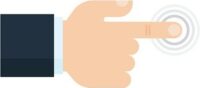 The cave was discovered in 1793 but has only been explored and open to the public for about 50 years. During its exploration, many vases and votive axes dating back 5,000 years were discovered. The excavated part is huge but only a small portion is open to the public and it can only be visited on a guided tour. The entrance to the cave faces the sea, the access consists of a long set of purpose-built steps followed by a walk along the cliff side. If there is high tide the steps are covered and the cave becomes inaccessible.
The cave consists of three different areas:
The entrance leads to the Corridoio delle Meraviglie (Corridor of Marvels) which preserves the best rock formations. In this area there is also a small lake, called Trabocchetto, of crystalline water mixed with fresh sea infiltration. It also houses a number of endemic species of aquatic life, among these there is a rare species of shrimp, with no eyes.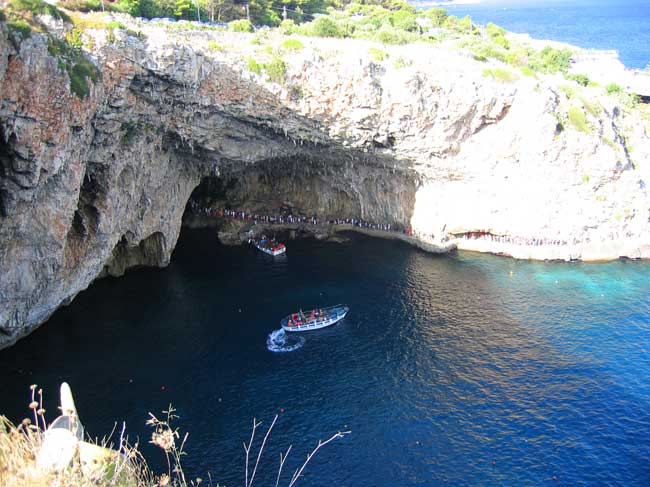 The corridor leads to a crypt area, also called Duomo (Cathedral) where smooth walls soar 25 meters above the floor level, creating a rather enormous room. The Crypt used to be inhabited by bats which had covered the floor with their guano for 5-7 meters. The guano, solid and on which it was possible to walk, was lifted in 1940 by workers who also created the interior walkways, today used for sightseeing. All bats have since left for less crowded areas, leaving the room open for tourists to enjoy.
The final section of the cave is called Cocito, it reaches up to 160 meters beyond the entrance, and houses the small enclosed basin on Cocito. Its waters are characterized by a stratification: in the lower part they are warm and brackish, on the surface they are sweet and cold.
The Zinzulusa cave gets very busy in summer. During the summer season many fishing boats are also available just outside the cave's entrance for tours at the water level: experienced guides will guide you along the cliffs overlooking the sea to discover many coves and small caves.
You can't miss the Zinzulusa Cave!